IoT Bee Hive - Save The Bees
Things used in this project
Hardware components
HARDWARE LIST
DFRobot Gravity: I2C BME280 Environmental Sensor
ElectroPeak 0.96" OLED 64x128 Display Module
Software apps and online services
Hand tools and fabrication machines
Soldering iron (generic)
Story
Bee box integrated with IoT sensors to support and elevate honey bee colony loss. Specifically aimed at these issues
Long-distance transportation of colonies
Winter survival rates
Pesticides
RF / EMF
Transportation and winter survival rates benefit from the BME280 sensor with temperature, pressure, humidity data. The moisture sensor can also relay overwintering solution status (sugar and water) providing sustenance during winter months.
The air quality sensor v 1.3 data will let you know if some harmful gasses are present.
Radio Frequencies and magnetic fields can also cause problems, a high pass filter
was utilized to identify signals above 0.3 GHz.
All of this data is able to be displayed over a smart phone or online dashboard.
Custom parts and enclosures
lazercountv2_Vbg1HeVUPs.STL
lazercountv2_t71paf6fDT.SLDPRT
Schematics
HiveFritz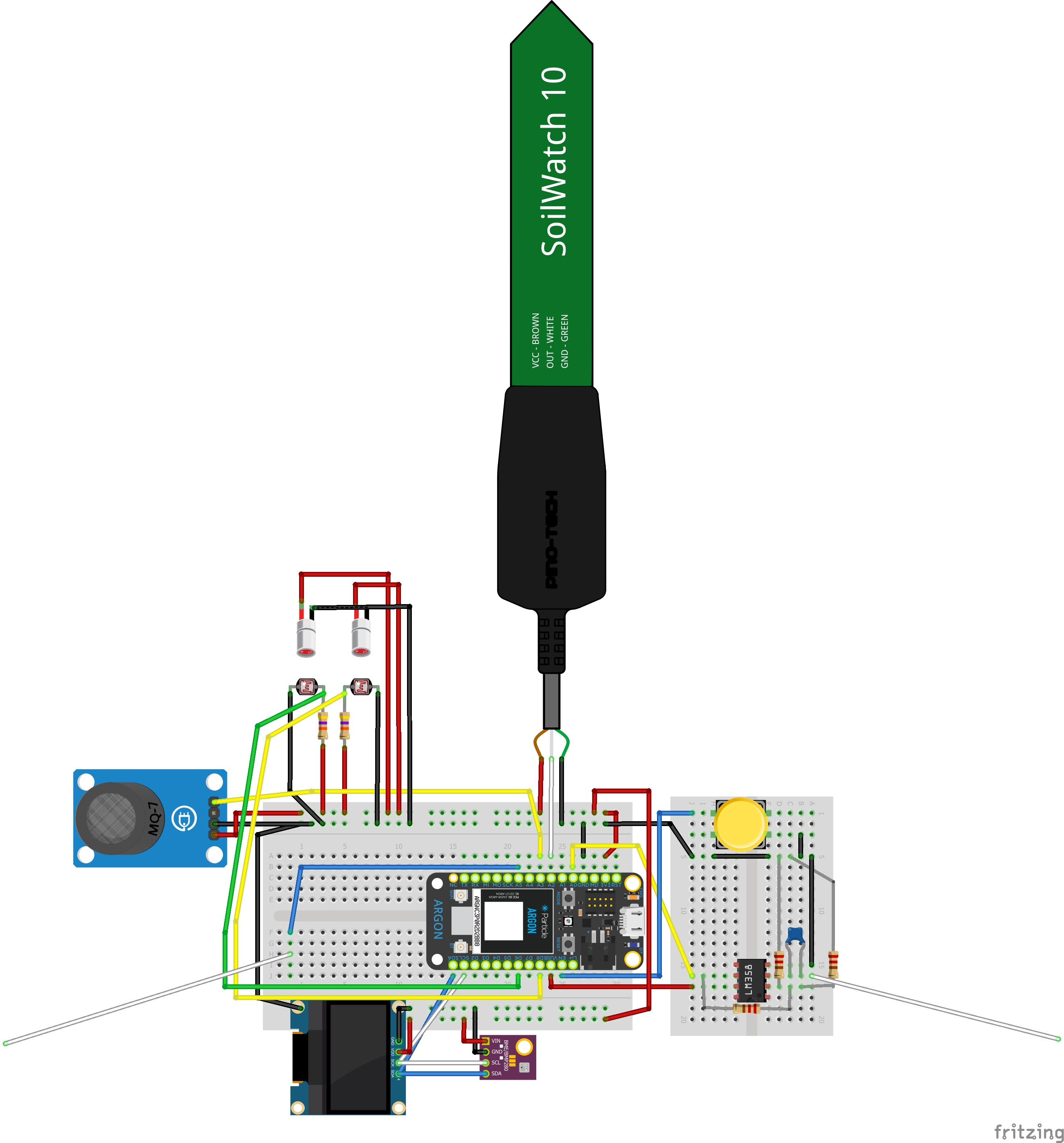 RoughSchem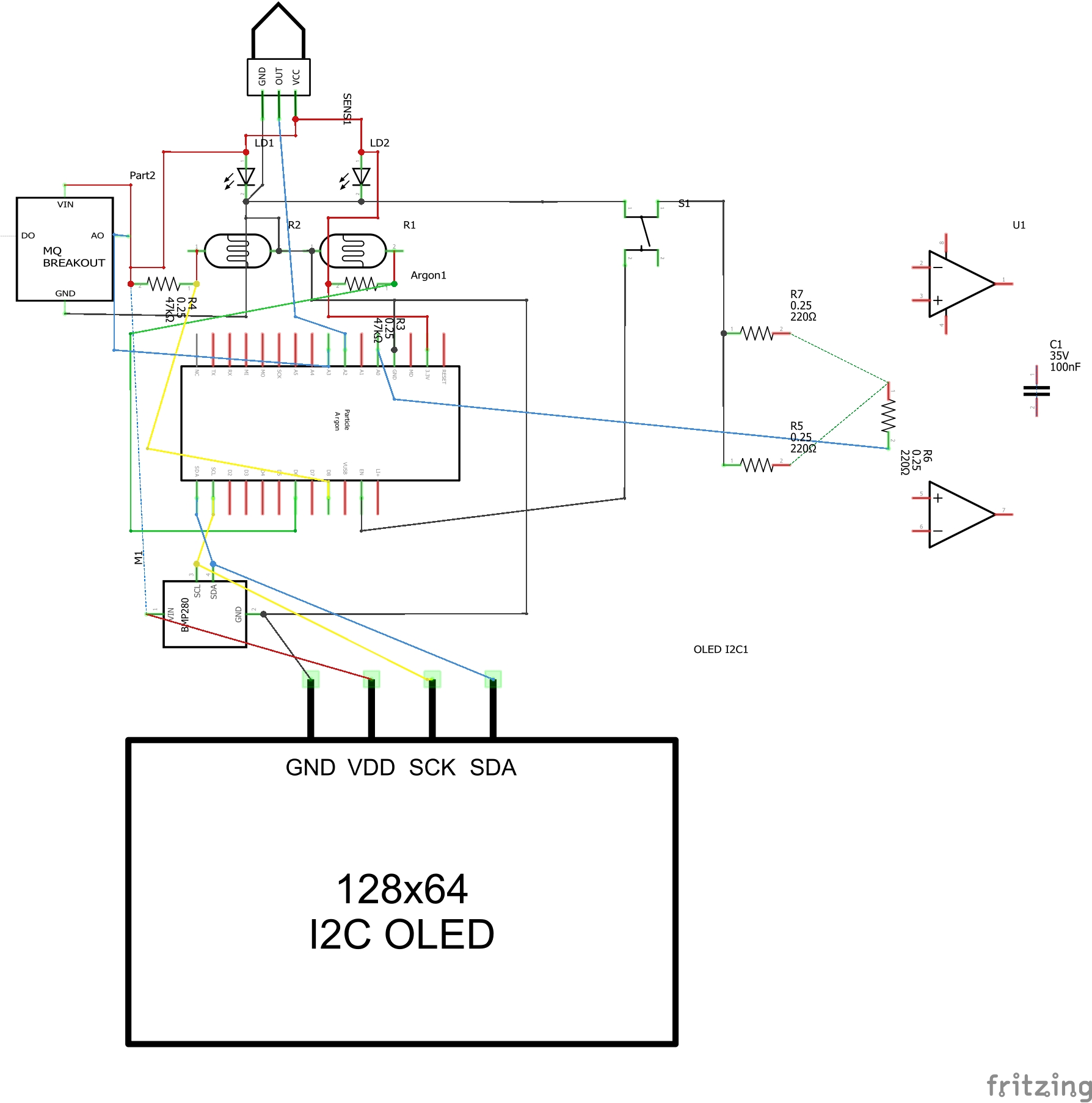 CODE
#include <Adafruit_BME280.h>
#include <Encoder.h>
#include <Adafruit_MQTT.h>
#include "Adafruit_MQTT/Adafruit_MQTT_SPARK.h"
#include "Adafruit_MQTT/Adafruit_MQTT.h"
#include "credentials.h"
#include "Adafruit_GFX.h"
#include "Adafruit_SSD1306.h"
#define OLED_RESET D4
#define XPOS 0
#define YPOS 1
#define DELTAY 2                      //OLED
Adafruit_SSD1306 display(OLED_RESET);
Adafruit_BME280 bme;
Encoder myEnc(D6,D8);// Diodes on D6 "IN" and D8 "OUT" labeled Encoder, able to count things going in and out
TCPClient TheClient; 
Adafruit_MQTT_SPARK mqtt(&TheClient,AIO_SERVER,AIO_SERVERPORT,AIO_USERNAME,AIO_KEY); 
// Adafruit_MQTT_Subscribe subFeed = Adafruit_MQTT_Subscribe(&mqtt, AIO_USERNAME "/feeds/push");
Adafruit_MQTT_Publish pubFeed = Adafruit_MQTT_Publish(&mqtt, AIO_USERNAME "/feeds/feedz");  //Air
Adafruit_MQTT_Publish pubFeedW = Adafruit_MQTT_Publish(&mqtt, AIO_USERNAME "/feeds/water"); //Water
Adafruit_MQTT_Publish pubFeedF = Adafruit_MQTT_Publish(&mqtt, AIO_USERNAME "/feeds/temp");
Adafruit_MQTT_Publish pubFeedH = Adafruit_MQTT_Publish(&mqtt, AIO_USERNAME "/feeds/humid");
Adafruit_MQTT_Publish pubFeedM = Adafruit_MQTT_Publish(&mqtt, AIO_USERNAME "/feeds/press");
Adafruit_MQTT_Publish pubFeedC = Adafruit_MQTT_Publish(&mqtt, AIO_USERNAME "/feeds/count");
Adafruit_MQTT_Publish pubFeedG = Adafruit_MQTT_Publish(&mqtt, AIO_USERNAME "/feeds/hertz");
Adafruit_MQTT_Publish pubFeedh = Adafruit_MQTT_Publish(&mqtt, AIO_USERNAME "/feeds/AR");
int lastTime,raw,rf;
int tempC,tempF,pressPA,humidRH,inHg;
int z,x;
static int hiveCount;
const int AIR=A3;   // ambient air 200-400, 99%IPA 2000
const int WATER=A2;
const int HPRF=A0;
const int RF=A5;
bool status;

SYSTEM_MODE(AUTOMATIC);  // needs auto to publish

void MQTT_connect();
bool MQTT_ping();

void setup() {
  Wire.begin();
  Serial.begin(9600);
  status=bme.begin(0x76);
  if(status==false){
      Serial.printf("BME280 at address 0x%02X failed to start\n",0x76);
    }
  pinMode(AIR,INPUT);   //  "z" MP-503 Air Quality Sensor v1.3
  pinMode(WATER,INPUT);   // "x" water present reads 2500, no water 3100+ depending on humidity
  pinMode(HPRF,INPUT);  // High Pass RF > 0.3GHz 0-4095
  pinMode(RF,INPUT);  // raw RF 0-4095
  display.begin(SSD1306_SWITCHCAPVCC,0x3C);
  display.clearDisplay();
  display.display();
  myEnc.write(hiveCount);
}

void loop() {

MQTT_connect();
MQTT_ping();

  tempC=bme.readTemperature();//deg C
  tempF=(tempC*1.8)+32;       // convert to F
  pressPA=bme.readPressure(); //pascals
  inHg=pressPA*0.0002953;     // inches of Hg
  humidRH=bme.readHumidity(); //%RH
  raw=analogRead(RF);
  rf=analogRead(HPRF);
  hiveCount=(myEnc.read())/4;
  x=analogRead(WATER);
  z=analogRead(AIR);

  if((millis()-lastTime > 30000)) {
    if(mqtt.Update()) {
      pubFeed.publish(z); // Air
      pubFeedW.publish(x);  // water
      pubFeedF.publish(tempF);
      pubFeedH.publish(humidRH);
      pubFeedM.publish(inHg);
      pubFeedC.publish(hiveCount);
      pubFeedG.publish(rf);
      pubFeedh.publish(raw);
      }
    lastTime = millis();
    }

  display.setRotation(0);
  display.setTextSize(1);
  display.setTextColor(WHITE);
  display.setCursor(0,0);
  display.printf("Temp=%uF\nPressure=%u\nHumidity=%u\nhiveCount   %i\nHighPass= %i\nraw rf    %i\nAQ = %i\nW=%i",tempF,inHg,humidRH,hiveCount,rf,raw,z,x);
// display.printf("Temperature is %uF\nPressure is %u\nHumidity is %u\n\nhiveCount   %i\n\nHighPass rf  %i\nraw rf    %i",tempF,inHg,humidRH,hiveCount,rf,raw);
  display.display();
  display.clearDisplay();

}
void MQTT_connect() {
  int8_t ret;
  // Return if already connected.
  if (mqtt.connected()) {
    return; }
  Serial.print("Connecting to MQTT... ");
  while ((ret = mqtt.connect()) != 0) { // connect will return 0 for connected
       Serial.printf("Error Code %s\n",mqtt.connectErrorString(ret));
       Serial.printf("Retrying MQTT connection in 5 seconds...\n");
       mqtt.disconnect();
       delay(5000);  // wait 5 seconds and try again
}
  Serial.printf("MQTT Connected!\n");
}
bool MQTT_ping() {
  static unsigned int last;
  bool pingStatus;
  if ((millis()-last)>120000) {
      Serial.printf("Pinging MQTT \n");
      pingStatus = mqtt.ping();
      if(!pingStatus) {
        Serial.printf("Disconnecting \n");
        mqtt.disconnect();}
      last = millis();
  } return pingStatus;
}
The article was first published in hackster, February 6, 2023
cr: https://www.hackster.io/Zacch/hivesupportsystem-4b2475
author: Zacc Randolph
License