Firebeetle MicroPython Badge
A badge with dot matrix cover that could be programmed using MicroPython.
Things used in this project
Hardware components
Software apps and online services
DFRobot upycraft IDE
Hand tools and fabrication machines
Soldering iron (generic)
Story
Background
DFRobot recently release a new line of development boards called Firebeetle. Fortunately I had a chance to try the Firebeetle ESP32 IoT board and the dot matrix cover. Then something popped up in my mind to build a wearable device from those two pieces of hardware.
The Project
So, I came up with this interactive badge that could be programmed using MicroPython. The Firebeetle has a Jst connector for lipo battery and I have a lipo battery lying around that I can use. Because the ESP3288 has the capability to connect to the WiFi, this badge also could grab the data from openweather API to give information about the weather.
You can tweak the code to make the badge display any kind information you want, just make sure you have enough memory space.
Schematics
firebeetle esp32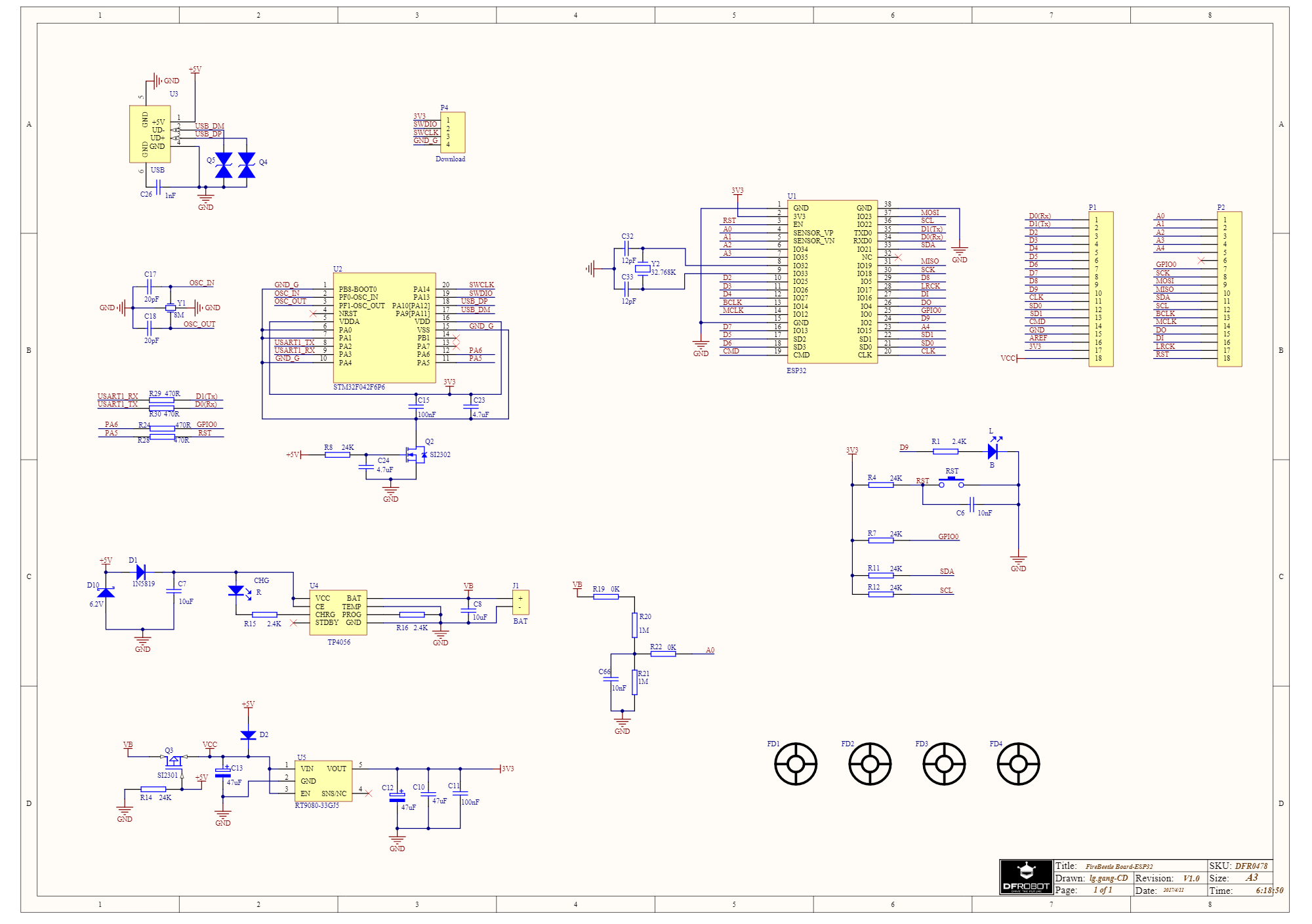 Code
ht1632.py
MicroPython
copy this file/library to your firebeetle to make the dotmatrix run perfectly
CODE
from machine import Pin
import framebuf

DFROBOT_HT1632_READ = const(0x06)
DFROBOT_HT1632_WRITE = const(0x05)
DFROBOT_HT1632_COMMAND = const(0x04)
DFROBOT_HT1632_SYS_DIS = const(0x00)
DFROBOT_HT1632_SYS_EN = const(0x01)
DFROBOT_HT1632_LED_OFF = const(0x02)
DFROBOT_HT1632_LED_ON = const(0x03)
DFROBOT_HT1632_BLINK_OFF = const(0x08)
DFROBOT_HT1632_BLINK_ON = const(0x09)
DFROBOT_HT1632_SLAVE_MODE = const(0x10)
DFROBOT_HT1632_MASTER_MODE = const(0x14)
DFROBOT_HT1632_INT_RC = const(0x18)
DFROBOT_HT1632_EXT_CLK = const(0x1C)
DFROBOT_HT1632_PWM_CONTROL = const(0xA0)
DFROBOT_HT1632_COMMON_8NMOS = const(0x20)
DFROBOT_HT1632_COMMON_16NMOS = const(0x24)
DFROBOT_HT1632_COMMON_8PMOS = const(0x28)
DFROBOT_HT1632_COMMON_16PMOS = const(0x2C)

class HT1632C():
  def __init__(self,DATA,CLK,CS):
    self.width = 240
    self.height = 8
    self.CS = Pin(CS,Pin.OUT)
    self.DATA = Pin(DATA,Pin.OUT)
    self.CLK = Pin(CLK,Pin.OUT)
    self.CS.value(1)
    self.pages = self.height // 8
    self.buffer = bytearray(self.pages * self.width)
    self.framebuf = framebuf.FrameBuffer(self.buffer, self.width, self.height, framebuf.MVLSB)
    self.begin()
  def begin(self):
    for cmd in (
      DFROBOT_HT1632_SYS_EN,
      DFROBOT_HT1632_LED_ON,
      DFROBOT_HT1632_BLINK_OFF,
      DFROBOT_HT1632_MASTER_MODE,
      DFROBOT_HT1632_INT_RC,
      DFROBOT_HT1632_COMMON_16NMOS,
      DFROBOT_HT1632_PWM_CONTROL | 0xF
    ):
      self.writeCommand(cmd)

  def writeCommand(self, cmd):
    val = (DFROBOT_HT1632_COMMAND<<9) | (cmd <<1)
    self.CS.value(0)
    self.writeBits(val,12)
    self.CS.value(1)

  def show(self):
    self.CS.value(0)
    self.writeBits(DFROBOT_HT1632_WRITE,3)
    self.writeBits(0,7)
    for i in range(24):
      val = self.buffer[23-i]
      val <<= 8
      self.writeBits(val,16)
    self.CS.value(1)


  def writeBits(self,data,length):
    while length:
      self.CLK.value(0)
      if(data & (1<< length-1)):
        self.DATA.value(1)
      else:
        self.DATA.value(0)
      self.CLK.value(1)
      length-=1

  def fill(self,vol):
    self.framebuf.fill(vol)

  def pixel(self, x, y, col):
    self.framebuf.pixel(x, y, col)

  def scroll(self, dx, dy):
    self.framebuf.scroll(dx, dy)

  def text(self, string, x, y, col=1):
    self.framebuf.text(string, x, y, col)
CODE
#hardware platform: FireBeetle-ESP8266

import ht1632
import time



DATAPIN=10
CLKPIN =13
CSPIN  =25

led=ht1632.HT1632C(DATAPIN,CLKPIN,CSPIN)




def write1():
  led.text("Firebeetle Badge",0,0)
  led.show()
  
  for i in range(145):
    led.scroll(-1,0)
    led.show()
    time.sleep(0.005)


def write2():
  led.text("Have a nice day",1,0)
  led.show()
  
  for i in range(170):
    led.scroll(-1,0)
    led.show()
    time.sleep(0.01)
        
while True:
  write1()
  write2()
  #time.sleep(1)
The article was first published in hackster, December 21, 2017
cr: https://www.hackster.io/hendra/firebeetle-micropython-badge-d1a0e5
author: Firebeetle MicroPython Badge
License